Online Class where we will explore the role, position, and powers of the bard in Irish traditions. For every tale told of our ancient past there must have always been a tale teller, a word weaver, a poetry performer. Yet these tales are not just fanciful fictions. Instead they form the memory of the people of Ireland, preserving the lessons of old through the ages.
The class will explore the lore of Ireland as we seek out those individuals who displayed the true power of words. We will also explore some of the structures that formed and safe guarded these important performers as well as how some of those protections were destroyed leading to the decline of not just the bards, but also the very memory of Irish power. We will even visit some of the tales told of the varied famous and infamous bards in Irish lore.

We will then take a step into the teacher's personally informed perspectives in regards to these individuals and what these stories might mean for us in a modern practice.
The Teaching is suitable for beginners, as well as those with more experience in this area, or in other traditions. You do not have to be dedicated to or working with any Irish Gods, Guides, or Guardians to take this class.

WHAT DO YOU GET WHEN YOU ENROLL THIS COURSE?

Your Course access enrollment below includes access to:
-- Class Presentation Slides
-- Class Video
-- Class Audio
-- Class Chat Log/Resources
-- Original story by An Scéalaí Beag

You will get the unique perspective of a native Irish bard, who studies the lore of Ireland and retells those tales for a modern audience, keeping to the core values and traditions and integrating them in his own pagan practices.
This makes it a completely self-paced online course - join in live if possible, and get the downloads after for repeated or further study. You decide when you start and when you finish.
When you enroll in this Course, you are receiving lifetime access (with a full 30 day money back guarantee).
Your Instructor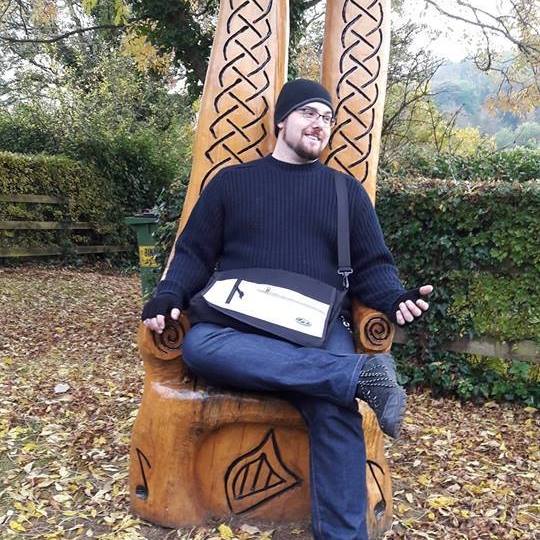 Jon O'Sullivan (An Scéalaí Beag) is an Irish tour guide, weaver of words, a teller of tales of his patron Deity, the Dagda, chief of the Tuatha Dé Danann.
He runs a blog, posting monthly stories - inspired by the native lore (and sometimes directly dictated by Big D himself). His Patreon gives you early access to the tales, as well as having the stories told directly to you in the form of audio downloads. He lives with his family in County Waterford, Ireland. With his partner, Lora O'Brien, he is the co-founder of the Irish Pagan School.

"It's not always easy to find the words... but when you find the right words, you can change hearts and minds." - An Scéalaí Beag

Course Curriculum
Welcome & Orientation
Available in days
days after you enroll
Class Presentation (2 hours, multimedia)
Available in days
days after you enroll
Q&A Session (20 minutes, multimedia)
Available in days
days after you enroll

I loved this class! I didn't know very much at all about The Dagda before this course, and I didn't expect at all to connect with these stories so deeply. Jon has a great teaching style-- really wonderful blend of storytelling and instruction. The bonus original story that we got as part of the class was also truly magical and I've thought about it pretty much every day since I finished the class as I go about my own daily routine of cooking and cleaning. This was all just really great stuff and I'm so glad I made time for it, will definitely being doing more exploration into The Dagda and taking more of Jon's classes in the future.
- Erin Parker commented on The Dagda - Hearth Hero & Domestic Deity

Frequently Asked Questions
How long will my enrollment last for?
After enrolling, you have unlimited access to this version of the recordings for as long as you remain a member of the Irish Pagan School - across any and all devices you own. So, you can take your time, or get it all done quickly, and revisit it all whenever you want to - it's completely up to you.
What if I enroll, then change my mind?
If you are unsatisfied with your purchase for any reason, contact us within the first 30 days and we will give you a full refund, no questions asked. If you do require a refund, please just contact the Irish Pagan School directly, by email. We will deal with your request and refund your money with no problems!
Do I need to have Irish ancestry to study here?
No, absolutely not. We provide authentic connection to Ireland, with native Irish teachers, for anyone who wishes to learn from us and is willing to put in the time and effort to do this properly... rather than grab a culturally appropriated quick fix.

This was my first class here (I was looking for more info on the Dagda, which was absolutely provided), and I really appreciated the clear and concise way the information was shared. I enjoy this format, as well as the speaker. The combination of historical lore and personal gnosis really helped shaped this deity and bring him further to life. Thank you!
- Kip Pond commented on The Dagda - Hearth Hero & Domestic Deity

How to Get Access...
Choose the payment option below that best suits you - pay in Euros with a Credit Card, or pay in US Dollars with a Credit Card or PayPal.
Click your preferred option so it's highlighted in orange.
Click the big orange 'Enroll Now' button.
On the Order Summary page, click to 'Add Coupon' if you have one! (Type in the coupon code, for example, from our Patreon Here)
Enter your Account and Payment information.
Tick the box to agree to the standard Terms and Conditions.
Click the orange button at the bottom of that page to enroll at the price that is displayed.
Don't forget you have a full, no quibble, 30 day money back guarantee!